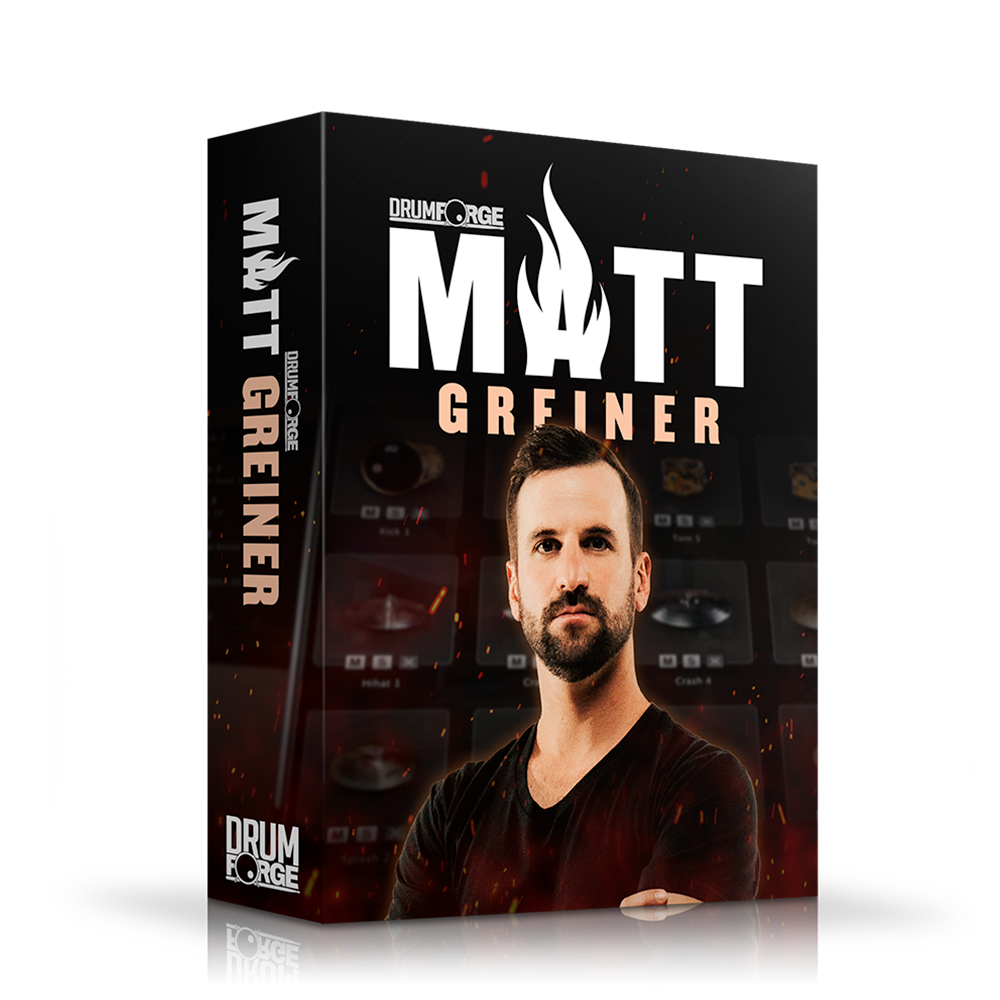 Fully equipped and powerful virtual drum instrument plugin for programming realistic rock and metal drum performances of any kind or simply augmenting your existing drum recordings.

The signature drum sample collection of legendary metal drummer Matt Greiner (August Burns Red). Meticulously captured and mixed by multi-Grammy nominated producer / mixers Carson Slovak and Grant McFarland (August Burns Red, Erra, Polaris, From Ashes To New, Galactic Empire, Everclear, Candlebox) at Atrium Audio.

Build your perfect virtual drum kit quickly with an intuitive UI design and a robust engine optimized for workflow.

You decide the engineering setups for each sample, per microphone, so that your drums will always sound how you want them which means unparalleled control in your creative process.

Fully featured virtual mixing console with built-in channel inserts so you can get the drum sound in your head without the need for any other mixing plugins.

Includes 2 Kicks, 7 Snares, 2 Sets of Toms (one set of 3 and one set of 4), 1 Hi Hats, 1 Ride, 5 Crashes, 5 China, 2 Splashes, 1 Stack, 2 Bells, and signature grooves from Matt Greiner.
Nail The Mix is an online mixing school that lets members download the actual raw multi-tracks to a new song every month to practice mixing on their own. At the end of each month, members can watch an all-day livestream mix event featuring the original producer mixing the song from start to finish. 
Carson and Grant have been featured on Nail The Mix four times for songs by August Burns Red, Rivers of Nihil, Candlebox, and ERRA (which includes NTM's first Dolby Atmos session). Click below to sign up and download multi-tracks recorded by Carson and Grant, along with the full live mix classes which walk you through every step of their process. Visit NailTheMix.com for more info.
Carson and Grant teamed up with STL Tones to release two signature guitar tone profile packs. The Atrium Audio packs include guitar and bass tones from many albums that Carson and Grant have produced, along with clean, rhythm, and lead profiles of amps from their personal collection. Both tone packs are available for STL's Tonehub plugin, as well as Axe-FX and Kemper formats. 
Atrium has also released an expansion pack for STL's Controlhub, an all-inclusive mixing plugin that allows you to load entire signal chain-based expansion packs from your favorite mixers and recording studios. Each preset is a complete emulation of the entire hardware or software signal chain. Click below to purchase and visit STLTones.com for more info.
The fine folks at DrumForge released a one-shot drum sample pack that Carson and Grant recorded with Matt Griener from August Burns Red. These are single-hit samples that can be blended in to inject power and definition to your drum mix. The pack includes several kicks, snares and tom sets, each with separate direct, overhead and room samples, as well as a blend of all three for each drum. Check out DrumForge.com for more info.
Wav Samples in 44.1 kHz, 24 bit format

For use with your favorite triggering program or in any DAW

4 Kicks, 5 Snares, and 1 Tom sample sets

NEW BONUS – Even MORE samples added to this already awesome pack including 1 new Kick, 2 new Snares, and a 5 piece set of Toms!